Lane/7000
Secure, sleek and smart for an enhanced checkout experience
Contactless

Security

HTML5

Touchscreen

Signature capture

Large display

Multimedia

Connectivity

Smartcard

Magstripe

Color display
Engage consumers with a large multimedia touchscreen and user-friendly HTML5 interface
Quick and easy payment options to improve checkouts
Integrate simply into any environment
Increase payment security with the first PCI PTS 5.x certified device
Future-proof payment security
The first PCI PTS 5.x certified solution, the Lane/7000 is natively designed to meet local regulations and ensure long-term compliance. It uses the latest cryptographic schemes with future-proofed encryption, while additional anti-theft systems, such as cable removal detection and Kensington locks, offer further protection.
Support for all payment options
The Lane/7000 supports EMV chip & PIN, EMV chip & sign, and magstripe transactions, as well as the broadest range of contactless NFC, mobile wallet, and alternative payment methods. Each method is available by selection and highlighted via illumination for easy and convenient use.
Consumer-friendly design enabling greater customer engagement
An intuitive, interactive device, the Lane/7000 transforms the point of sale into a point of engagement. Using HTML5, it offers the same user experience, touchscreen capabilities, and user-friendly interface as a tablet computer. Multimedia support is also available along with Bluetooth and barcode scanning.
Lower total cost of ownership
Automatic and remote diagnostics, as well as preventive maintenance capabilities, reduce the total cost of ownership and protect your hardware investment.
Industry-proven and reliable technology
Backed by 30 years of development experience, the Telium TETRA operating system is the perfect combination of payment expertise and web-based design creativity. It offers powerful security mechanisms to protect transaction data while enabling the rich content of HTML5web-based applications.
Product Information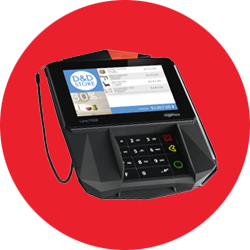 Lane/7000 / Datasheets
Secure, sleek and smart for an enhanced checkout experience.